Are you wanting to up level your childcare business during 2022? Would you like some super easy ideas on how you can do this?
I can help you take your daycare to the next level by changing up your services to fulfill the needs of your community.
Read on for 4 ways you can do to take things up a notch!
Break free from the status quo
Things feel good right now. You're comfortable. Your all star team are settled and your waitlist is good. But how does it feel thinking about  staying in this place forever? Wouldn't you feel better about raising your game and stretching your zone of genius a bit?
Playing it safe isn't always the best option for business. By looking at what your community needs right now and applying that knowledge to your business strategy, you're setting yourself up for success. So take time now to plan how you can up level your childcare business during 2022. It's time to say no to the same old services and offer something innovative!
So I'm sharing 4 ways you can change up your childcare offerings to build a more successful childcare business in the new year…
1. Outside of Office Hours
Right now, I'm guessing that your daycare provides a service for parents working a 9-5. You might be open 6am to 6pm or maybe just 8am to 6pm. However that means there's a huge section of your local families that are missing out on great childcare!
Think about it. There's nurses and doctors, construction workers and delivery drivers, people working shifts in hospitality… There's a world of workers that are crying out for high quality care for their precious ones! They're working outside the typical day, and don't keep regular working hours which makes life tricky to organize.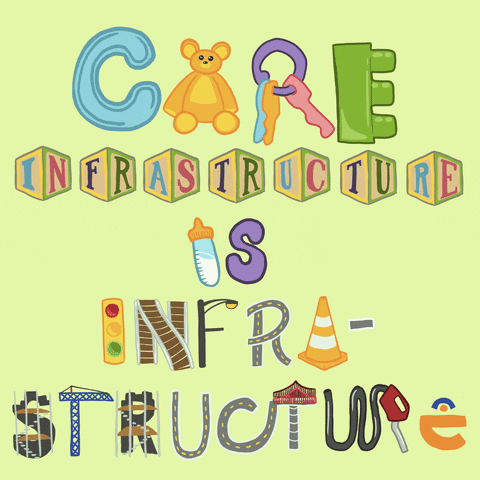 Like the gif says, "Care infrastructure is infrastructure". I wonder if you've ever considered starting or adding a 24hr daycare service to your offerings? Or perhaps "night shift" childcare as an opposite offering from the usual opening times you see everywhere. How about having a flexible option that allows parents to buy a chunk of hours and use them to fit in round their shifts? Tricky but not impossible. And by going above and beyond, people rave about your services!
By adding an extra in order to grow your childcare business, you can make a real difference and stand out.
2. Solve transportation issues
Often there's a barrier to getting kids over to daycare – buses with no routes that early, or not serving in that area… So there's no way of the child getting from their door to yours, safely. Or perhaps their child finishes kindergarden or school and needs to get from there to you somehow? Whatever the issue, can you think outside the box and offer a service that meets their need?
Why not look into solving that problem – whatever it may be – and offer a solution?! Could you collaborate with someone local who has transportation to collect the children? Perhaps a child friendly and licensed taxi service could join forces with you to bridge that gap? Or maybe you have a minivan and plenty of space to transport kids from one place to another!
Families are always so grateful for the kindness and consideration, and will happily pay you to keep their babies safe and secure!
3. Look into event childcare
Now that the world is opening up again and we've all started venturing to events, it might be time for you to start thinking about the skills and services you can offer to the venues and hosts of big events.
Because at the end of the day, no one wants this kind of situation do they?! Better to have them playing safely with a childcare worker in another room.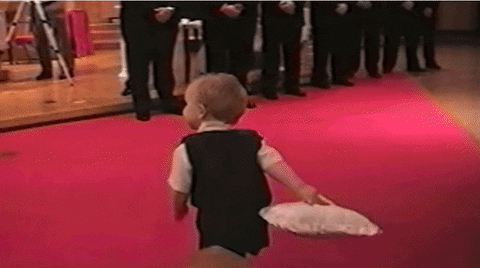 After opening my home daycare, I ventured into event childcare and it is still working fabulously for me! I started out helping families out at weddings – I cared for their babies so they could enjoy the special celebration. Then it turned into other events – college reunions, fairs, funerals, conferences…
You can look into working for families, or make links with venues to be their go-to childcare at any events they put on.
4. Use your venue wisely
If you have a daycare space that isn't your home, you might want to consider hiring it out at the weekends. Depending on your space and the set up, there are a few options here!
Could you offer it out on Saturdays and Sundays for early years birthday parties? Parents are always looking for good value rooms to hire to host parties in. Safe spaces they know are suitable for little people and their needs – baby changing areas, age-appropriate equipment etc. You might even want to add in the cost of a member of staff so someone's on hand to take care of things.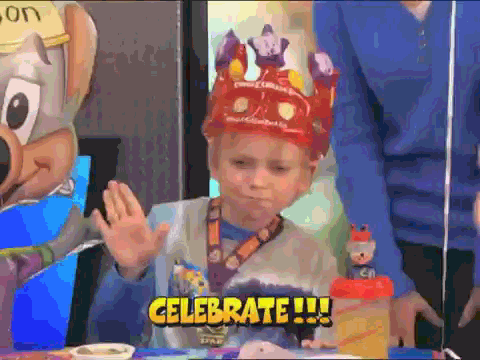 Or could you look at hiring it out for fundraising events? And if you have a larger hall space, there are people who'd snap up a meeting room for their community group activities perhaps in the evenings too. In these cases it's usually just a payment and key situation, so less involvement and easier to manage!
If your space is sat empty on the weekends or evenings, why not add this additional service?!
What do you think? Is it time to up level your childcare business during 2022?
I go into more detail in my latest video! Join me as I take a look at some ideas to niche down your childcare business and unleash success in 2022.  Pull up a chair, grab a notebook and hold on tight because it's go, time Ninja! Watch the latest episode on Youtube video here:
Speaking of being next year…have you started planning for 2022 yet?! I've got just the thing to give you a head start! This is no ordinary paper planner. It's specifically designed with Childcare Business owners in mind. Because I got sick of having to tweak the ones aimed at other industries!
And because I know a planner is zero use without accountability, I've added an accountability piece to my new and improved Nyckie B's 2022 Childcare Business Planner System! 
Pre-order yours now ——–> here!
Even with all the planning in the world, being a home daycare provider can sometimes feel lonely and overwhelming. Getting connected with other childcare owners is a game changer! Gain strategies and tips to move your childcare business forward by joining a community! That's why I set up my Facebook group, where you can hang out with like-minded and aspirational daycare owners. Join us for more tips on how to make your childcare business the success it deserves to be!
Or if you prefer Instagram, we share ideas and tips there too. We're an army of childcare professionals who are sharing ninja-sharp skills to transform our businesses into childcare empires! This is Childcare Ownership all Grownup!