Have you been sitting on the fence when it comes to making your childcare biz go digital? Well I'm about to spill the tea on why it matters and why now is the perfect time to make the change!
In case you haven't heard it's the 21st century and it's all about digital. The way we use paper for business is just not the most efficient way to do things anymore.
Have you taken your biz digital yet? Read on for why you ought to!
What do I mean by "go digital"?
It's funny because when I was talking to some of my coachees about going digital, they completely misunderstood at first. They thought I meant take their day cares online – go virtual. Nope! I'm not even sure how that'd work! What I am referring to is setting up your systems using tech to help you and moving your planning to digital too.
But I love paper…
Hey, don't get me wrong. I love heading to Target each September and buying new stationery as much as every other female entrepreneur. But the time has come for us to take into consideration the impact that's having on 1) the planet and 2) the growth of your childcare business.
When I made the shift from paper systems to digital – staffing systems, family systems, planning systems – I saw a huge difference. I spent less time paper shuffling (literally!) and more time on the things that matter. And of course I want that for you too!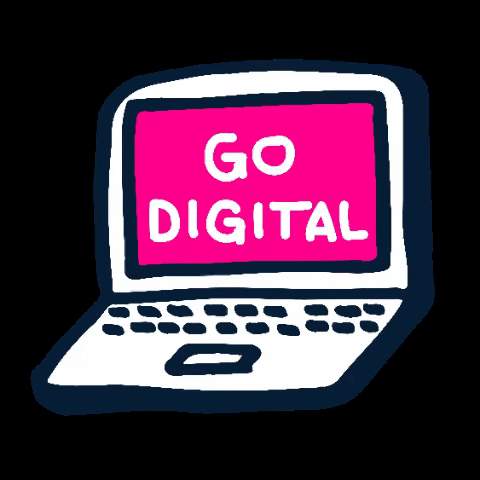 1. Going digital saves you time
By turning your childcare biz digital, you can be more efficient. Whether that's by copying tasks and appointments on your digital planner, dragging and dropping items across on your scheduling app you can save a ton of time in your business with by going digital. You can batch tasks and then duplicate things as and when, erasing items with a click of a button and editing as you need to.
One of the best things about going digital is the ability to search through your apps. This saves you having to sift through paperwork looking for that one thing a client of staff member needs. Being able to find info quickly frees up your time!
2. Take it with you wherever you go
When you go digital, you've got no worries if you left your paper planner at home or if your bag is too small for one. You can carry so much more information than ever before!  Think of all your work notebooks, folders and drawers of files being instantly accessible from one device. Unlimited portability. (Unless you've got one of these bags…)
3. They're so easy to use
All these digital apps and planners available nowadays are incredibly user friendly! I am no tech whizz, but I have digitized my entire biz and have had no issues – except for keeping up with my biz growth!
4. Going digital is cost effective
Imagine how much money you're going to save your business in the long run! No trips to Walmart to get your stationery kicks and clutter your office up with more notebooks you'll never use. And you can wave goodbye to the impractical planner you thought you'd use everyday but actually it sits gathering dust because it's too big and bulky.
5. Environmentally friendly
Who needs endless reams of post-it notes and pages of notes nowadays? It all creates so much waste. And unless your county has great recycling facilities, that'll all end up in landfill. So going digital is a green and clean option!
With the reusable features of digital planners and other systems, you won't need single use paper anymore. And you'll have digital stickers, no need to buy pencils and pens to use with it either because it's all reusable. Your digital stationery can be used over and over again!
Which means digital planners are more environmentally friendly than traditional planners, creating less clutter and helping you reduce  waste. Less waste, more haste makes Childcare Ninjas awesome!
Let's make your childcare biz go digital
Hopefully I've convinced you that it's as easy as pie to go digital and now is the time to do it! Soooo…
Digital planning uses the foundation of our traditional method of paper planning and transforms it into a more streamlined process.
Our digital planner enhances productivity by effectively organizing your day and streamlining your workflows. You'll be able to take notes, keep track of meetings, set your priorities, and quickly accomplish your goals like the Childcare Ninja you are!
Our exclusive planning system was created especially to help today's childcare professionals get organized! You can easily and quickly plan curriculum, menus, social media scheduling and so much more. There's even a vision board section! Let's get you flying high in 2023!
So if you're looking to reduce overwhelm, get organized and achieve your goals next year here you go! Get on the waitlist for your 2023 CHILDCARE BUSINESS PLANNING SYSTEM right now!! 
Find cheerleaders and support in prepping for 2023
Even with the best planning system in the world, being a home daycare provider can sometimes feel lonely and overwhelming.  Don't forget that you can find strategies and tips to move your child

care business forward by joining our community! You can hang out with like-minded and aspirational day care owners in there. Plus I go live regularly to talk about topics that'll help you grow.
If you prefer Instagram, we share ideas and tips there too. Or maybe email is your thang…JOIN OUR 
 MAILING LIST HERE. We're an army of childcare professionals who are sharing ninja-sharp skills to transform our businesses into childcare empires! This is Childcare Ownership all Grownup! Join us for more tips on how to make your childcare business the success it deserves to be!